This is part of a sponsored campaign and a contributing blog post with Voices.com.

Have you ever been listening to the radio and wondered who that sassy woman trying to sell you on the latest weight loss drug was? You would think to yourself, "Wow, despite the fact that she is trying to make me succumb to the ridiculous societal pressure for women to be stick thin, I kind of like her."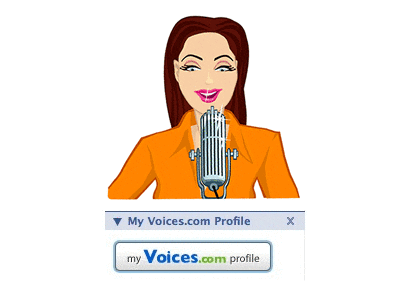 Or what about the guy advertising the latest and greatest hardware store that somehow reminded you of your great-grandpappy? Don't fool yourself, the people belonging to these incredible voices aren't all kicking up their feet in ritzy mansions in Hollywood, they're everyday people like you and me.
One of the people belonging to those voices is a woman named Carly Kraemer, a dedicated stay-at-home mother of two. She works part-time as a voice actor from her home in the Midwest while also homeschooling her two small children. 
Now, I myself am not yet a mother, but if my niece and nephew are any indication of how much attention toddlers need, I was particularly interested to learn what kind of magic she works at home to find a balance between family and work life. Turns out, she is a master of time management! Her trick? Making the most of small increments of time, which in her words is usually all moms get! Carly will sneak into the studio and audition for jobs several times per day and if offered a job, will find time later in the evening to record. Her biggest advice? Don't fight the flow of the day; i.e. don't fight your kids for quiet time! Trust me you will get tired of editing out the phrase "quiet please" yelled out the door of the studio. 😉
To make both worlds mesh, she works hard to manage her time and follow a schedule that accommodates her commitments. Her day typically revolves around her children. They do school work in the morning and if they're working quietly, she'll sneak in some editing or record an audition for a job that piques her interest. If it's not a "work quietly" kind of day, she'll wait until nap time to really focus on her work. Lately she's taken on more projects that are longer in length with later deadlines, such as audiobooks. Projects like this are great because she can record at night when the house is quiet and edit during the day whenever she gets the chance.
So where did Carly learn the art of voice-acting? Like any specialized skill, she practised! Carly has been working in radio since her high school days. She would pre-record skits for radio bits (say that 10 times fast) and worked as an on-air personality. She also spent a lot of time in the production room cutting commercials. These experiences all helped her get the practice required to make it in the voice acting world.
I was curious to learn how Carly is able to record her audio with no background noise in a home with two small children. Would you believe me if we told you that she started out recording in her closet? A common misconception is that you have to spend a lot of money soundproofing a home studio. For a long time, Carly was using a walk-in closet. The clothes provided natural sound absorption and the tone was great! She now has a nook that she has closed off and hung blankets around for soundproofing. The point is, anything will work. Remember, it's not TV. It doesn't have to look amazing…just sound amazing.
I know what you're thinking, this all sounds too good to be true, so what's the catch? There has to be challenges. I'm with you, I needed the dirt. The truth? Of course there are challenges to working as a voice-actor, while being a stay-at-home mom, but they may not be what you'd guess.
Carly's biggest challenge is knowing when to quit. She has a passion for voice acting and finds the work enjoyable. As with anything, it's not easy for her to divide her time between working and making herself available to her children. Being the savvy business woman and loving mother that she is, she found a loophole:
"This field of work is unique in that there are several Voice Acting jobs for kids. These kind of auditions are great because the kids are always excited to "work" with me and it greatly benefits their communication, reading, and comprehension skills. And watching me edit their recording for them and play it back is something they enjoy. So one of the other benefits of working as a voice actor from home is being able to incorporate my kids in my job and show them what it looks like to run a business out of your home."
Seriously, what can't this woman do? Carly found her passion in voice-acting. I like the freedom and the control: if I want to make more money, I work harder. How great is that?! Carly is an awesome example of what can happen when you mix a strong work ethic, drive and a love of what you do.

Think you may be interested in having a career in Voice-Over work like Carly? Well here's your chance! Voices.com has been helping businesses find their voice since 2004. Founded by a husband and wife team with a passion for the industry and a vision that there was a better way to find, hire, and pay voice talent. Today Voices.com is the world's largest online voice-over marketplace. 125,000 talent from around the globe, speaking over 100 languages and dialects, are connected daily to the job opportunities posted by 125,000 clients. Projects range from broadcast TV spots to audio books to e-learning videos, and everything in between. And here's some more exciting news! Mommyhood to Hollywood is giving away to one of its readers a free Membership that's worth $400.00 USD! Here are the details for the Give Away!
GiveAway Deets: Go to www.Facebook.com/MommyhoodtoHollywood and LIKE the page. Then type a message that says, "I want to win a Voices.com Membership." It's as simple as that and you're in. The Giveaway will be announced on the Mommyhood to Hollywood Facebook page on Friday, August 8th, 2016.