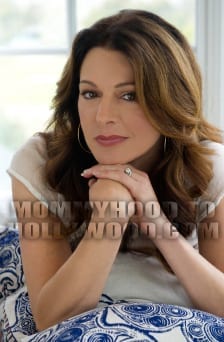 1. Jane, congrats on the success of your show Hot In Cleveland! You have been quoted as saying that Cleveland's "female-centric environment" is an empowering one, please tell us more about why you feel this way?
I'm working with a 51 yr old, a 60 yr old and a 90 yr old, and they are all fabulous beautiful women with so much to offer. On our show, women like these are actually given the respect and opportunity to do what they do best.  In a culture that is consumed with youth, it is empowering to have our wisdom and experience appreciated.
2. How do you balance being a successful actress with being a busy mom? What are the challenges and what do Isabella and Finn think about their mom being on TV?
A busy schedule can be difficult, but I have the best husband on the planet.  He supports my endeavors, and we work as a team. I also make sure that whenever possible I'm there to attend Back to School Night, or a trip to the dentist. My kids understand that I work hard, but couldn't care less what it is that I work at. Don't they know who I am?!
3. What is the most fulfilling part about being a mom?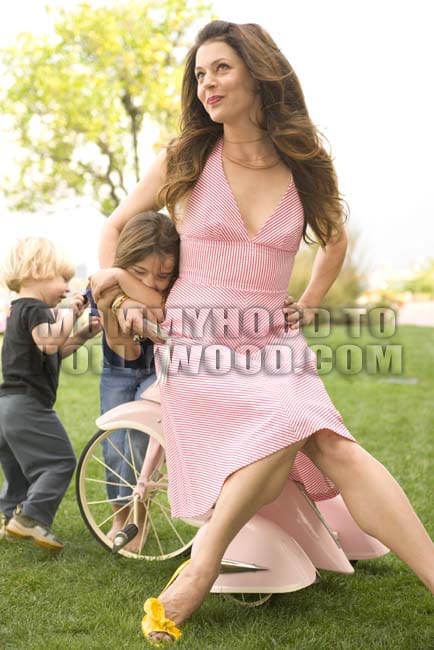 I have loved bringing these two little people into the world and watching them evolve as individuals, with unique personalities and talents.  Having the ability to encourage them in their own pursuits and dreams is what I feel being a parent truly is.
4. You have a long history with Valerie Bertinelli and have worked with Wendie Malick on Frasier, what would you say is the dynamic between the three of you on Hot In Cleveland?
Yes we do all have history together, and have great respect and admiration for each other. There's great comfort in knowing that we are all looking out for one another. It's a true friendship both on and off the set.
5. You have described the beloved Betty White as being such an inspiration, what is it about her that inspires you the most?
I'm inspired by Betty's passion for everything she does, whether it's her charitable work with animals, or her work as an actress. Betty always gives 100% and is a true professional.
6. Switching gears, you have launched a baby-care line called, "Tellurian Baby," what made you want to start a product line such as this?
My partner Ron Lewis, who is an expert in the field of hair care and skin care manufacturing, came to me with the idea of starting an all natural line of baby-care products. He explained to me the harmful ingredients that are commonly used in children's products today that a lot of people aren't even aware of. As a mother myself, I loved the idea of being a part of creating a line that would be truly pure, safe, and gentle, and that parents would really be able to trust!
7. What do you believe sets this baby-care line apart from others? Would you say Tellurian is gentle enough on babies with skin problems, such as Eczema, which is something my 2 year old daughter has?
There are several things that really distinguish this line from the others out there. The first is the quality. We use ingredients that actually duplicate the natural components of the skin, which protect and nourish the skin. We also really wanted to focus on making our products gentle and mild enough to be 100% tearless and irritation-free even for the most sensitive skin (including skin with eczema), and we really did!
Another aspect I am really proud of is the Tellurian Foundation, which will donate 50% of profits to various children's charities. Ron and I really wanted to use this line as a vehicle to give back to children and spread awareness. The name "Tellurian" means inhabitant of the earth, and we feel it is important to spread the message that we are all one, and we should work together to help others in need, especially children.
8. Do you have a particular product within the Tellurian line that is your absolute favorite?
I have to say I really love our 2-IN-1 Shampoo/Body Wash. When I'm in a hurry to get the kids showered and off to something, it's quick, easy and leaves them smelling amazing!
9. What can your fans expect from you next?
Well, a whole lot more of the same, I hope!! I am so blessed to be able to get up in the morning and go to a job I love, with fantastic people around me. I hope Hot In Cleveland continues for years to come! I am also looking forward to Tellurian Baby really taking off and allowing the Tellurian Foundation to become a vehicle for us to be able to do a lot of good for children.
httpv://youtu.be/ezdQKhHFBmE